Children are constantly learning new skills, and along with those skills comes the confidence to use them. In order to truly thrive, kids need to trust in their capabilities while knowing that it is okay to not always succeed. Here are a few tips to help your kids feel confident and capable:
Encourage New Things
It is great for children to try new things rather than focusing on one skill that they are already good at. Putting new skills under their belt will allow kids to feel more confident in their skills, so they will be eager to tackle whatever comes their way.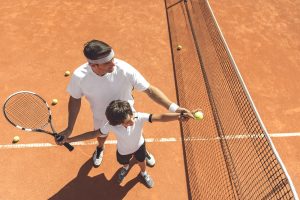 Mistakes Happen
Teach your children that everyone makes mistakes. Let them know that it is most important to learn from them rather than dwelling on them. Don't let the fear of failure stop them from trying new things and try to help build your child's confidence by teaching them how to handle setbacks.
Praise Perseverance
It is an important life skill to learn not to give up after one failure. Confidence is not all about succeeding all the time, but continuing to try time after time without becoming too frustrated if you're not the best.
Be a Model
Be a model of confidence yourself by showing your kids how you take on new tasks. Show optimism and demonstrate how you prepare for the task. Let them know if you feel nervous so they know that it is okay to feel anxious about new things, but don't focus on it too much. Focus on the positive aspects of trying something new.
Goals
Practice setting goals with your children, whether there are large goals for the future or short-term, small goals. Have them make lists of things they would like to accomplish. Break those larger goals down into more realistic benchmarks. This will show kids that they can accomplish anything with hard work and that good things come with time.
Celebrate Effort
Not every attempt will be a success, so acknowledge and praise the confidence in children for their efforts regardless of the outcome. Results are not always immediate, so make sure your kids know that it takes hard work to develop new skills and it will not always happen overnight. Let them know that their work is valued.
Walton Academy
Walton Academy is a private school located in Greenville, North Carolina. We are always striving to provide a consistent, nurturing and innovative environment for our students. We understand that early childhood education plays a large role in your child's development, so we ensure they receive a high-quality education. With small classrooms and highly qualified teachers, you can be sure your child will receive individualized instruction, character education, and social-emotional habits.
Walton Academy firmly believes that an environment with minimal distractions is key to student success. To achieve an optimal learning environment and experience, we require each child to undergo our enrollment screening process. During our enrollment screening process, students are observed and assessed academically, behaviorally, and socially. Our enrollment screening ensures that our classroom environment remains focused and that each student can excel and reach their full potential. Contact us today to learn more!