Private schools in Greenville NC are full of many new things, such as making new friends. While some children may immediately fit into a new group of friends, others may have to work a little harder to find other kids with similar interests. With new friends also comes new challenges; disagreements, jealousy, etc. Here are a few ways you can help your kids work through issues with their peers at their private schools in Greenville NC: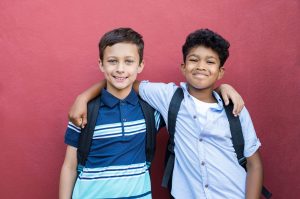 Acknowledge Feelings
Sometimes parents have a hard time seeing their child feeling hurt, and their words reflect their frustration toward the other child. We may tell our child to let it go and find a new friend. However, these comments geared towards forgetting about a friend they cared about or a situation that really hurt them will make them feel as if their feelings are being dismissed. Empathize with their feelings and let them feel those emotions fully. When a child gets the chance to really feel their emotions, they will begin to feel better and start to find better ways to solve the problem.
Avoid Negativity
Rather than making negative comments about another child or brushing off what they did to hurt your child, reflect on the situation and help clarify. Instead of saying, "I don't think Sarah meant to hurt your feelings. You still need to invite her to your party." try empathizing by saying something like, "It sounds like it really upset you when Sarah said that in front of your other friends. You think that she did it on purpose, and you feel so mad that you don't want her to come to your party anymore." When your child feels as if you understand and support them, they will be able to get past their angry feelings and make decisions on how to move forward.
Navigate Bossiness
Bossiness is common among early elementary schoolers. All children want to have their own way, and they want others to go along with it. If your child tends to be bossy, try asking them questions to help solve the problem: "Is it more important to play the game your way or to have your friend play with you?" If another child is bossy towards your child, help them find ways to nicely negotiate. Encourage them to handle the situation by saying things like, "I want to keep playing with you, but we've been playing this game all morning. Can we do something that we both want to do?"
Provide Support
If your child is having a hard time with their peers, they may need some help learning specific skills. Some children may have a hard time listening to their friends' ideas, or they might get too close in others' personal space. Observe your child as they play with others and see if something may be going awry. Discuss it without placing blame or shame on your child; it may be helpful to read books about social skills with them.
Walton Academy
Walton Academy is always striving to provide a consistent, nurturing, and innovative environment for our students. We understand that early childhood education plays a large role in your child's development, so we ensure they receive a high-quality education. With small classrooms and highly qualified teachers, you can be sure your child will receive individualized instruction, character education, and social-emotional habits.
Walton Academy firmly believes that an environment with minimal distractions is key to student success. To achieve an optimal learning environment and experience, we require each child to undergo our enrollment screening process. During our enrollment screening process, students are observed and assessed academically, behaviorally, and socially. Our enrollment screening ensures that our classroom environment remains focused and that each student can excel and reach their full potential. Contact us today to learn more!