It's the most wonderful time of the year, but it's also the busiest. Between buying gifts for all your family and friends, to holiday events, family gatherings, and more, a joyful holiday can become more stressful than it should be. When kids see their parents getting stressed, they can become stressed too. Here's what to do to keep the holidays full of cheer and less stressful for everyone: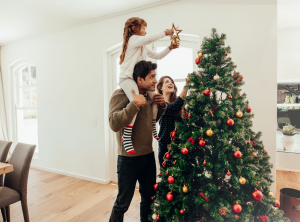 Manage Your Stress
You are a role model for your children in everything you do. You are always setting an example for them, and there is no way to stop them from sensing your stress. Be aware of the way you carry your stress during the holidays, especially in front of your children. Take time for yourself and ask your partner or a family member to hold you accountable, and vice versa.
Stick to Routines
Children thrive off of routines that are both predictable and healthy. It may be much easier to ease up on the typical rules during the holidays, such as allowing the kids to stay up late and sleep late, but try to stay within an hour of the usual times. We all are at our best when we stick to our sleep schedules, and the same goes for mealtimes.
Manage Expectations
Young ones may let their Christmas dreams get the best of them, expecting tons and tons of big, expensive gifts. They might be hopeful for a jam-packed Christmas vacation with fun activities to do each and every day. However, this is often not feasible. Prevent broken expectations by letting your kids know what they can expect over their break and regarding their gifts. Take a look at your calendar together and let them know what days activities can be scheduled.
Rituals
The joy of the holidays can sometimes be dragged down by the copious amounts of things you have to do. Build some holiday rituals, if you don't have some already, so you will have things that you truly want to do during the holidays. Whether it's baking homemade cookies, seeing a play, or getting together with friends, create things that you can do each year that are fun and meaningful.
Help Others
Don't forget the reason for the season. Pause the hustle and bustle of the holidays to do something that helps others. Don't think of it as a family chore, but a way to teach kindness and to remember what's more important than presents. Pick out toys for a toy drive or donate clothes to a shelter. It provides a perspective that we all need and is a great way to warm hearts during the holidays.
Walton Academy
Walton Academy is always striving to provide a consistent, nurturing and innovative environment for our students. We understand that early childhood education plays a large role in your child's development, so we ensure they receive a high-quality education. With small classrooms and highly qualified teachers, you can be sure your child will receive individualized instruction, character education, and social-emotional habits.
Walton Academy firmly believes that an environment with minimal distractions is key to student success. To achieve an optimal learning environment and experience, we require each child to undergo our enrollment screening process. During our enrollment screening process, students are observed and assessed academically, behaviorally, and socially. Our enrollment screening ensures that our classroom environment remains focused and that each student can excel and reach their full potential. Contact us today to learn more!