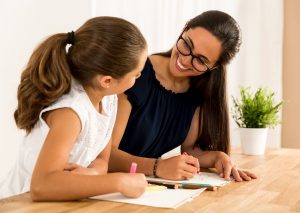 Research has shown that students achieve more in school when their parents are involved in their education. So what conclusions have been drawn?
Better Classroom Behavior
Parental involvement can enhance academic performance in children as well as positively impact their attitude and behavior in the classroom. When a parent shows interest and gives encouragement, the child can develop a whole new attitude towards school, their self-esteem, and motivation.
Staying Involved Through High School
Parental involvement has the ability to make a positive difference at all age levels. Not only is it greatly important with young children, but it is equally as important with middle and high school students as well. A parent's encouragement could be the deciding factor for a high school student considering dropping out. A high school student may also consider college more seriously when their parent shows interest in their academic achievement.
Lifts Teacher Morale
Involved parents tend to develop a greater understanding of the challenges that teachers face in the classroom, which benefits the school and the teachers because it boosts morale. Communication between home and school helps teachers know their students better, which allows them to teach the student more effectively.
Benefiting Children and Parents
Being involved in your child's education gives parents a better understanding of the curriculum and activities that their child is doing on a daily basis. It gives parents peace of mind as they become more comfortable with the quality of education their child is receiving.
Tips for Being Involved:
Help your children with homework assignments
Attend and support school activities
Talk with your child about school on a daily basis
Participate in parent organizations
Attend parent-teacher meetings
Read with your children and discuss the books/stories
Volunteer in classrooms, on field trips, etc.
Parental involvement paired with encouragement and support is sure to lead to better achievement in school for their children. Follows these tips to get involved, and watch your child flourish!
Walton Academy
Walton Academy is a private school located in Greenville, North Carolina that firmly believes that an environment with minimal distractions is key to student success. To achieve an optimal learning environment and experience, we require each child to undergo our enrollment screening process. During our enrollment screening process, students are observed and assessed academically, behaviorally, and socially. Our enrollment screening ensures that our classroom environment remains focused and that each student can excel and reach their full potential. Contact us today to learn more about private school classes in Greenville, NC!