Children, through their developmental years, grow in certain ways that will continue to affect them over the rest of their lives. During these stages of their lives, their personality is only just beginning to form. Throughout their early years, children often copy and learn from the world around them. At this crucial stage in their lives, children need guidance and care so that they can become responsible adults in the future. The private schools in Pitt County NC, such as Walton Academy, assist children, as well as their parents, on early personality development. To learn more about how you can help your child develop a personality and outlook that can set them up for success, visit the best private school in Greenville NC, Walton Academy.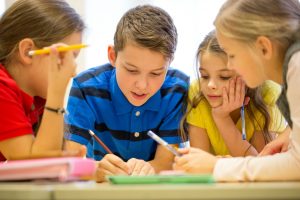 Early Childhood And The Personality
A personality is more than how a child chooses to respond to the world around them. It includes their understanding of the world, as well as their place in it. With this information, the child then begins to form hobbies and interests that enable them to better understand their likes and dislikes. If at this stage, the child does not receive proper care and encouragement, they can develop personality traits that hold them back. A child who is often criticized, can in turn, become critical of themselves and others.
How Can You Help Your Child's Personality Development?
Parents who take an active role in their children's lives shouldn't miss out on personality development. There are various ways you can encourage your children to explore their interests and likes. You can do this by:
Encouraging activities such as painting, learning an instrument, martial arts, sports, or other activities
Educational content, especially entertainment in the form of games, apps, videos and more
Books, toys, classes, and more
Alongside letting your child experience various activities, you should also consider the value of socialization. Children should have healthy relationships with their peers. In their early stages of personality development, after their parents and authority figures, friends become important. Your child can find the right balance between learning and personality growth at the best private school Greenville NC.
Positive friend groups, meeting new friends in classes or activities, and playing together, can inspire positive personality development in children. Consider visiting the best private schools in Pitt County NC to give your child the best advantage when it comes to both education and personality development.
Walton Academy, Private School Greenville NC
At Walton Academy, the best private school Greenville NC, our faculty and staff are dedicated to helping teach your children healthy decisions. By having positive examples surrounding them at school and at home, we can form habits in our students that will result in a healthy future. There are certainly mental, physical, and developmental benefits to being involved in your child's learning progress and extracurricular activities. Walton Academy, the best private school Greenville NC encourages you to provide your child with the tools to make learning fun and engaging. Practice the tips mentioned above to help balance, manage, and extend your child's love for learning!