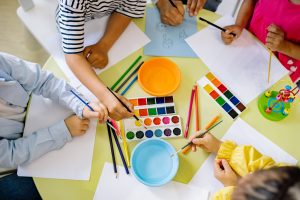 The muggy days of summer are now gone and have been replaced with the blissful, cooler days of fall. Fall is such an exciting time of year, and there are so many things to look forward to such as, leaves changing, pumpkin carvings, hayrides, and hot cocoa. There are so many fun activities you can do with your family this time of year, and what better to spend time together than by creating some fall-inspired crafts? At Walton Academy, private schools in Greenville, NC, we believe family time is essential, and crafting is a great way to spend free time together.
More than Just Fun
Crafting is a fun and engaging way to spend time with your kids and encourage critical thinking. Crafting helps your kid think about the final product, which can help generate excitement and initiative to complete a project. It also helps build resilience because creating things take time, and while their project may not come out perfect the first time, it helps your child understand that it's okay to make mistakes. It also helps them look for a solution, rather than immediately getting frustrated when something didn't turn out as they thought.
Get the Creative Juices Flowing
If you're looking for a few fun, easy, and creative crafts for your kids to try this year, check out the projects we've found listed below. At Walton Academy, private schools Greenville, NC, we know that you'll have fun spending time crafting with your little ones, and they'll be excited to create something extraordinary. Not only will your kids love that their artwork is on display as decor, but everyone can see it as well.
Fun and Easy Crafting Ideas:
Washi Tape-Covered Pumpkins
Halloween Candy Wreath
Leaf Ghosts
Paper Bag Monster Puppets
Craft Stick Scarecrow
Pine Cone Owl
Paper Plate Scarecrow
Walton Academy | Private Schools Greenville, NC
We hope you can enjoy some of the crafts we've shared with you and look forward to hearing about the fun time they had crafting their fall projects. At Walton Academy, private schools Greenville, NC, we are invested in your child's future and want to empower all of our students to become successful and independent individuals. If you're interested in learning more about our academic focus, visit our website or contact us for more information today.