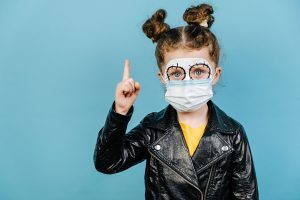 It is understandable that Halloween can be a child's favorite event of the year. Dressing up in costumes, decorating the house with spooky accessories and carved pumpkins, and devouring all the candy they desire, are all aspects of typical Halloween celebrations that children love. But when a nation-wide pandemic occurs, do the holiday festivities get put to a screeching halt? Walton Academy, one of the best private schools in Greenville, NC is here to supply a few pointers on keeping your kids happy, yet healthy and safe while still being able to celebrate this coming Halloween!
Costumes with Face Masks
Because wearing a face covering has become the new norm, we advise parents to help their children select costumes that include masks or some sort of face covering. While the thin fabric of the costume may not protect from germs, they will enable the children to wear a proper medically approved face-covering underneath, without ruining the costume.
Costumes with Gloves
Similar to the tip before, store-bought costumes may not provide adequate protection from germs spread through surfaces. However, costumes that involve wearing hand coverings such as gloves or other accessories can hide the medical-grade, rubber gloves that are impenetrable, and can be worn underneath. This will allow kids to feel the freedom of using their hands to grab treats and wave at friends while staying safe and in character.
Your Walton Academy private school Greenville NC staff advises staying outdoors and wiping off any candy collected while trick or treating for easy yet effective ways to stay safe. However, if trick or treating is too risky for members of your family, consider these other silly and spooky activities that can easily generate holiday enthusiasm!
Spooky Movie Night
The fall season is packed full of spooky, kid-friendly Halloween television or movie programs that can gather together the whole family. Collect some pillows and blankets, turn the lights off, cook some popcorn, and cozy up to enjoy a few spooktacular performances.
Front Yard Find
This is a favorite from the private school Greenville NC administrators at Walton Academy. Similar to an Easter egg hunt, hide your children's favorite treats, small toys, or other knick-knacks around your yard. Turn the lights off, play Halloween themed music, and give the kids a glow stick or dimmed flashlight. Allow them to dress up in a costume and spend some time digging around outdoors to find what's hidden. This generates the excitement of getting to search for goodies in their costumes while keeping a distance from others.
While the pandemic has affected most of the year, Halloween is one of the easiest events to make as normal as possible. Use this time of distancing and fewer interactions to spend quality time with the family and get creative. Begin new traditions that produce the holiday spirit, and use this as an opportunity to teach flexibility and positivity to the entire family. Walton Academy, your local private school Greenville NC wishes you all a safe and spooky Halloween!