This summer is the perfect opportunity to incorporate DIY project ideas into your children's summer plans. There are projects for all ages and interests from science to design and tech. Here are few summer DIY projects that private schools in Greenville NC recommend.
Rain, Rain Go Away
Summer comes along with rainy days at home. What a perfect opportunity for a DIY activity about the rain! It's very simple. All you need is a plate, a glass mason jar, one or two cups of ice cubes, and very hot water. Place the hot water into the glass jar, about a third of the way up. Put the plate on top of the jar. Place all the ice cubes carefully on the plate. Watch the inside of the jar start to exhibit rain!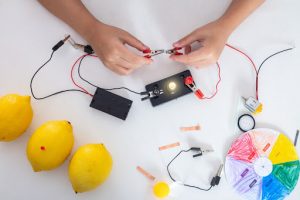 Magic Trick
For this project, you'll need only a ketchup packet and a one- or two-liter plastic bottle filled about three-quarters of the way to the top with water. Pop the ketchup packet into the bottle, and then squeeze the bottle to see if you can make the packet move up or down. Try different packets, such as those of mustard or soy sauce. Do they move the same way as the ketchup packet did?
Jellyfish in a Bottle
Fun and educational, the jellyfish in a bottle is an enjoyable craft that can be played with for several days. You'll only need a cleaned one or two liter clear bottle, a clear plastic grocery bag, dyed water (we recommend blue), scissors, and a white string. First, fill the bottle halfway with the dyed water. Then, lay out your plastic grocery bag. Start cutting it into small strips. Tie the strips together to form a jellyfish-like shape. Now, push the plastic "jellyfish" into the dyed water. Gently add more dyed water on top of it, leaving at least two or three inches of air at the top of the bottle. Tightly secure the top to the bottle, and then allow your children to play with the "jellyfish in a bottle".
The Power of Magnets
Your kid might think they have magical powers with this activity, but it is simply the power of magnets. Add half-inch long pipe cleaner bits into an empty, clear, and cleaned two-liter bottle of soda. Have about 3 to 4 inches of pipe cleaner bits at the bottom of the bottle. Let your child use a large magnet to run along the side of the bottle to see the metal-based pipe cleaners attract to the magnet.
Elephant Toothpaste
This activity may sound silly, but it is a great science project. Begin with a clean two-liter bottle upright in the middle of a cooking pan. Fill the bottle with half a cup of hydrogen peroxide, a few drops of the food coloring, and a few drops of the dishwashing soap. In a bowl, mix together two tablespoons of the warm water and the yeast, allowing the yeast to dissolve. Lastly, allow your child to slowly pour the yeast mixture into the soda bottle mixture and watch the elephant toothpaste come to life.
Walton Academy
Walton Academy is always striving to provide a consistent, nurturing, and innovative environment for our students. We understand that early childhood education plays a large role in your child's development, so we ensure they receive a high-quality education. With small classrooms and highly qualified teachers, you can be sure your child will receive individualized instruction, character education, and social-emotional habits.
Walton Academy is a private school in Greenville, NC that firmly believes that an environment with minimal distractions is key to student success. To achieve an optimal learning environment and experience, we require each child to undergo our enrollment screening process. During our enrollment screening process, students are observed and assessed academically, behaviorally, and socially. Our enrollment screening ensures that our classroom environment remains focused and that each student can excel and reach their full potential. Contact us today to learn more!