Activities are moving from the classroom to the home this summer. Educational activities are used on a daily basis in private schools in Greenville NC, and can be easily transitioned to be done at home. Make a simple task a fun summer activity this year with these activities!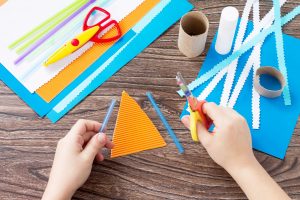 1. Ice Cream Math
Summertime and ice cream are the perfect combination, but how about ice cream and math? Don't worry, this fun activity is not as messy as you would think. All you need is colorful pom-poms (ice cream) and brown paper triangles (cones). Add numbers to the paper triangles and have your child stack the "ice cream" scoops onto each cone according to the number. This activity not only practices counting but also color identification and patterns.
2. Rainy Day? No Worries! 
Bring out the rain boots and head outside to splash in puddles or make indoor puddles to improve math skills. With blue construction paper, cut out puddle shapes and a different number on each. Have your child jump from one puddle to another in order, counting out loud as they go and then do the same thing backward. For children third to fifth grade, practice mental math skills by having them add, subtract, multiply, or divide numbers and jumping to the puddle with the correct answer.
3. BINGO!
Make reading fun with a friendly BINGO game. Start with a summer reading list, then create a BINGO sheet with different reading goals for each spot. Goals can include big and small items such as finishing an entire book or simply reading for 15 minutes. As they complete each goal, cross it off the BINGO sheet. Once an entire row or column is complete, prizes can be given! A few options for prizes include extra TV time, a small toy, or a new book!
4. Bubble Art
Let your child's creative and artistic side come out with a household favorite, bubbles. Bubbles can be educational and fun as used in private schools in Greenville NC. All you will need is food coloring, white card stock paper, bowls, and bubbles with a wand. Simply pour a small amount of bubbles into a bowl with about five drops of food coloring. Several bowls can be made for different color options. Make sure to stir your bubbles well! Then, have your child dip the wand into the bowls and blow bubbles onto the white card stock. This activity is great for all ages!
Walton Academy
Summertime is fun and relaxing, but it is important to keep your child's mind active. Summer activities are a fun way of incorporating learning into your child's day. Walton Academy is always striving to provide a consistent, nurturing, and innovative environment for our students. We understand that early childhood education plays a large role in your child's development, so we ensure they receive a high-quality education. With small classrooms and highly qualified teachers, you can be sure your child will receive individualized instruction, character education, and social-emotional habits.
Walton Academy is a private school in Greenville, NC that firmly believes that an environment with minimal distractions is key to student success. To achieve an optimal learning environment and experience, we require each child to undergo our enrollment screening process. During our enrollment screening process, students are observed and assessed academically, behaviorally, and socially. Our enrollment screening ensures that our classroom environment remains focused and that each student can excel and reach their full potential. Contact us today to learn more!